105 RCACC is one of two Cadet Units that belong to the 7th Toronto Regiment, RCA family. Located in Streetsville (Mississauga) Ontario, the Cadet Corps currently boasts a total of almost 90 youth members. As a Training Unit, our objective within the Canadian Cadet Organization is to develop life skills for Canadian youth. This cannot be done without dedicated staffs.
Unlike other branches of the Forces, much of the running of a Cadet Unit is dependent upon the dedication of unpaid Civilian Volunteers who come out every Tuesday evening Parade night to mentor, instruct and develop the youth members in the mandated Training syllabus, as well as coming out every Thursday evening and many weekends, to run optional activities such as our Drill Team, Band, Orienteering Team, Marksmanship program and Biathlon programs, just to name a few.
Much of what we do are not funded by National Defense nor the Canadian Armed Forces. The Corps Support Committee is integral in fundraising to pay rent and utilities of our Local Headquarters, Russell Langmaid Streetsville Cadet Centre as well as supplemental activities. Without the revenue streams they generate, we could not operate.
Currently there are eighteen volunteers and seven Officers dedicated to making this program educational and challenging for the youth members. Below are Corps related biographies for most of these individuals.
Cadet Master Warrant Officer Darsh Mehta is the Regimental Sergeant-Major. He joined the Royal Canadian Army Cadet program with 105 – 7th Toronto Regiment, RCA since he was in grade 7, and is currently in his 5th year in the cadet program. During his time in cadets, he has been active as a leader, volunteer, and learner. Through the Royal Canadian Army Cadet Program, he has learned how to become an effective leader, became proficient at field training, fitness, and wilderness survival. He has planned unit exercises and assisted with the execution of those exercises. Within the unit, he has an extensive history of community volunteerism including leading various community clean-up efforts, Remembrance Day, Bread and Honey Festival, among others. In Summer 2020, MWO Mehta was selected to summer camp, where he was a Virtual Staff Cadet and helped rewrite the cadet program. Outside of cadets, MWO Mehta will be finishing his final year of high school. He looks forward post-secondary education and whatever life throws at him.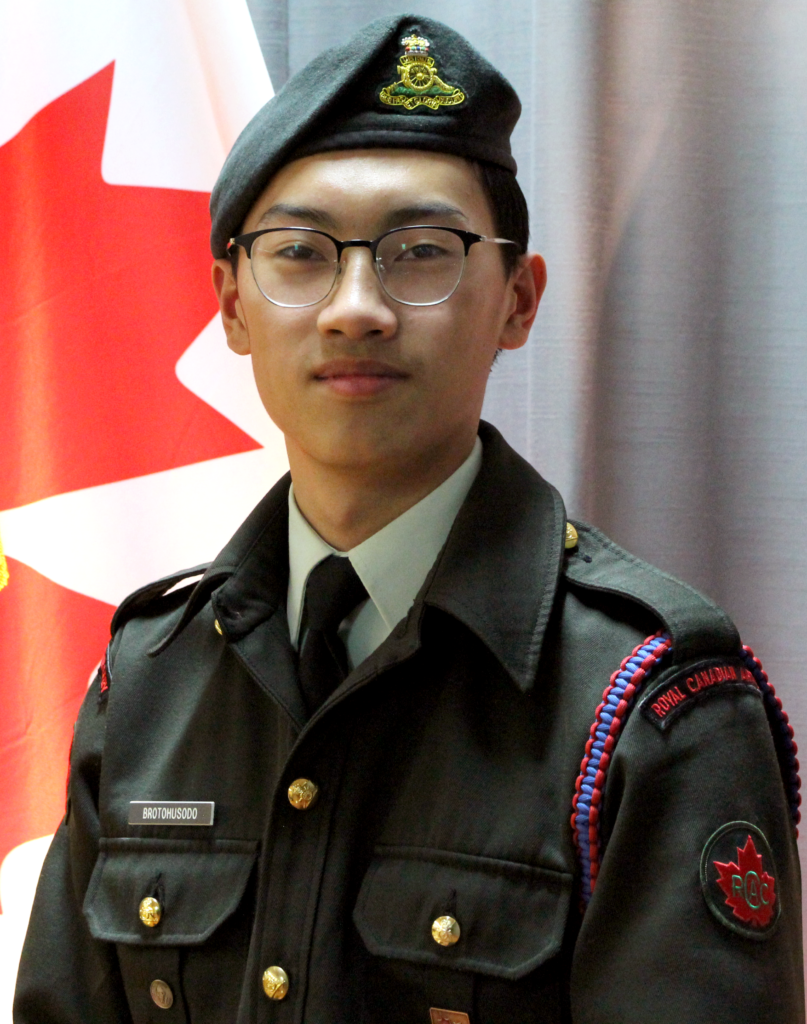 Chief Warrant Officer Nathanael Brotohusodo is the Training Sergeant-Major. He has been a part of the 105 – 7th Toronto Regiment, RCA since he was 12, and is currently serving in the training cell working with Master Cadet instructors to ensure their lessons and teaching skills are engaging and informative.  Within the unit, he has participated in several competitive operational teams, such as the Drill Team, Biathlon Team, and has shown keen interest in expedition. He is regarded by his peers and superiors as exemplifying the model cadet.
He has served in several capacity within the unit including as Regimental Sergeant-Major, and has excelled in community service having volunteered his time to teach drill lessons for St. John Ambulance Youth Division, a regular volunteer at the Royal Canadian Legion Branch 139, and in multiple Remembrance occasions including the special service by the Ukrainian Canadian Congress.
Captain Shannon Pecore is currently our Commander Officer.
A native of Mississauga, Captain Shannon Pecore was an Army Cadet with 2824 COPS Royal Canadian Army Cadet Corps (RCACC) and she's been involved with the Canadian Cadet Organization (CCO) ever since.
After serving as a Civilian Instructor/Volunteer with 337 Queens York Rangers RCACC, 2408 Borden RCACC, Blackdown Cadet Training Centre and most recently 105 Streetsville RCACC, she enrolled in the Canadian Armed Forces in January 2017 as a member of the Cadet Instructor Cadre.  
While at 105 Streetsville RCACC, Captain Pecore has held the positions of Administration Officer, Master Cadet Star Level Coordinator, Training Officer, Deputy Commanding Officer and Unit Public Affairs Representative. She was promoted to her current rank of Captain in June 2021.
Captain Pecore has completed numerous qualification courses including the Unit Public Affairs Representative (UPAR) course in June 2021. She has actively worked as a UPAR for the Niagara Greater Toronto Area since May 2018, helping to promote the CCO through coverage of events, training of cadet correspondents, creation of Public Affairs materials and monitoring of social media accounts as assigned.
In December 2019 Captain Pecore was awarded the Sovereign's Medal for Volunteers for her ongoing dedication to youth and sports in her community. Her commitment not only to her unit, but also her community has been recognized with a Commanding Officer's Commendation, the City of Mississauga Civic Award of Recognition as well as a Covid Heroes Award. She is also a volunteer Crisis Responder with the Kids Help Phone.
Captain Pecore has been married for 20 years to Kris. Together they have two sons, Owen and Cameron and a German Sheppard named Chewie. In her spare time, she enjoys cruise vacations and spending time with her family.
Lieutenant Bianca Fung is currently the Master Cadet Coordinator and corps marksmanship coach. She has been working with 105 RCACC since 2012. She is in charge of coordinating the training and assessment for all senior cadets in the unit. During the summer, she has worked at Connaught Ranges as a coach for the Royal Canadian Army Cadet National Rifle Team (RCAC NRT). Bianca coaches cadets from all across Canada and Great Britain using the C11 and C12 target rifle, shooting from distances between 100 to 1000 yards. She has led three Canadian cadet teams to compete internationally in Bisley, England, in 2013, 2016 and 2019. Bianca has competed for Team Canada on several occasions and most recently participated in the Long Range World Championships in New Zealand. She has her sights set on a future Commonwealth Games. In her civilian life, she is an elementary school teacher.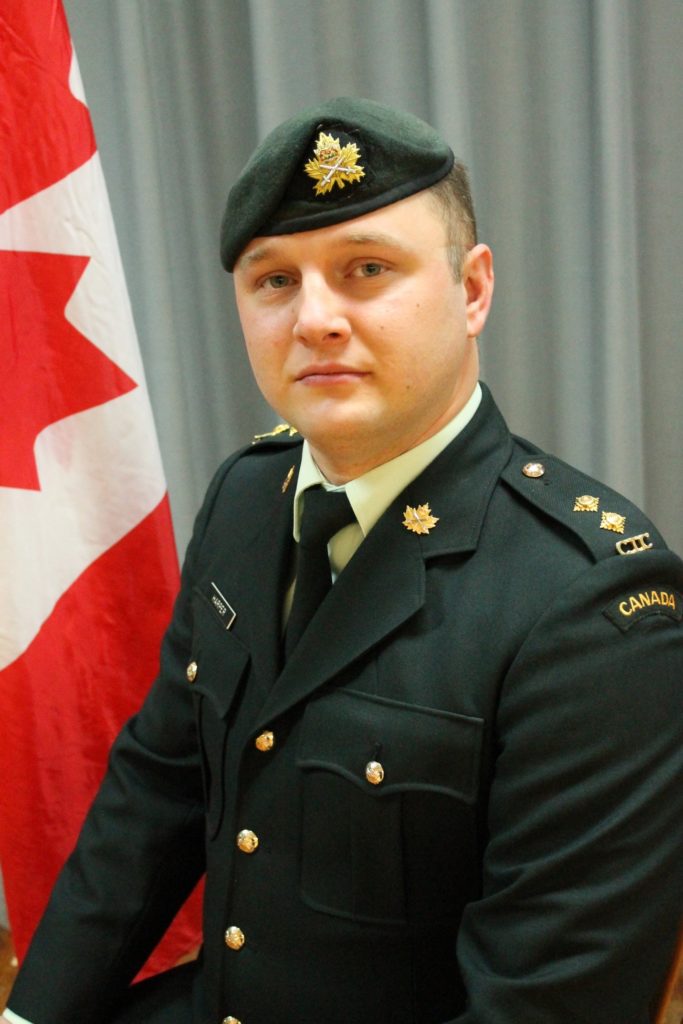 Lieutenant Neil Harper is the Training Officer. The Canadian Cadet Organization has given him many opportunities and skills throughout the total of sixteen years being involved. Starting in September 2003 until November 2009 were the years he was a young cadet at the age of thirteen. After retiring from the CCO, he became a Civilian Volunteer learning the role of Band Officer until moving on to Supply.In June 2012, he was attested into the Canadian Armed Forces as an Officer Cadet in the Cadet Instructor Cadre Branch.
He has been employed during several summers as a Platoon Commander, Assistant Physical Education and Recreational Training Officer and Hospital Liaison Officer Coordinator at Blackdown Cadet Training Centre. At 105 he has been an Instructor, Standards Officer and a Star Level Training Coordinator.
Lieutenant Matthew Petruzzi is the Green Star Coordinator, working with first year cadets. 
He joined 105 Army Cadet Corps in January of 2014 as a Civilian Volunteer.  He was given the pleasure of working in the Quarter Master Stores.  As the Supply Officer he made sure the new recruits are given a uniform in a timely manner.  He was sworn in to the Canadian Armed Forces as an Officer Cadet in the CIC on the sixteenth of May 2017.  
In his civilian Life, he works in the shipping and receiving department for an aerospace company.
His passion is Cycling and Fishing.
Officer Cadet Brad Hovenden is the Red Star Coordinator, working with second year cadets.
Following the lead of his cadet daughter, OCdt Brad Hovenden joined the 105 as a Civilian Volunteer in 2019.  Finding the opportunity to train young minds appealing,  he applied to join the Canadian Armed Forces as a CIC Officer within one year, and was sworn in on 1 December 2020.
Born in Montreal, Brad grew up in Northern Ontario where he cultivated a love of the outdoors.  Fluently bilingual in both official languages, Brad holds a degree from the University of Toronto.  In civilian life he works for a provider of commercial gases.
Civilian Instructor Linda Worsley is the Band Officer and Admin Assistant.
CI Worsley joined 105 when her daughter was a cadet with the corps. She has been with the corps for fourteen years and has stayed long after her daughter aged out of the program. She has worked in many areas of the corps, but being the Band Officer is her favourite. She loves watching cadets advance and grow. She looks forward to serving 105 for many years to come.
.In her civilian life, she has worked for Scotiabank for 23 years and works for Global Operations.
Civilian Volunteer Marissa Weir-Cotnoir is Safety Officer and Assistant Supply Officer. She has always had the military as an integral role in her life as her father was in the Navy out on the East coast.
She grew up on a military base on the East coast.  After moving to Ontario, she missed that community and closeness that she had down east and went in search of something that brought to her that sense of community back.  She found that in the Cadet program.  She began volunteering with 105 in 2014 and has taken many roles including Green Star and Silver Star Coordinator, as well as Admin Officer.
Civilian Volunteer Brian Clark is the Supply Officer and Adjutant.
He joined 105 RCACC as a Civilian Volunteer in August 2016.  A former serving member in the Canadian Armed Forces, he was a Gunner having served with 2 Royal Canadian Horse Artillery (RCHA), "D" Delta Battery, as the Battery Sergeant-Major's Mobile Support Equipment Operator and as an Dangerous Goods (Ammunition) Driver in the Air Defense Troop from 1978 through to 1981 at Canadian Forces Base (CFB) Petawawa.  
In civilian life Brian worked in Film Industry and long haul mobile operator.
Civilian Volunteer Diego Perez is the Gold Star Coordinator, working with fourth year cadet. He was a former cadet Regimental Sergeant-Major at the unit.
Diego has worked with several Star Levels since he began volunteering.   He has attended the Leadership and Challenge Course in the Rocky Mountain National Cadet Training Centre. Diego has in previous years participated in Regional Expeditions and this was a great experience for him.